Love, love, love,
That's what it's all about.
Cause God loves us we love each other.
Mother, father, sister, brother.
Everybody sing and shout!
Cause that's what it's all about.
It's about love, love, love.
I wish you could hear me singing this cute song that our kiddos sing during the month of February. Well, actually it's a good thing you can't because it would hurt your ears. I had an adorable kiddo last year who told her mom and grandma (both teachers) "Mrs. Schaff just starts singing and she isn't even embarrassed!" Uh, should I be? Yeah. Another year a little darling told me that I sang so good that I could sing at the local theater. Sure, if it was closed, empty, and boarded shut. But I do love to sing!
I am so excited to be sharing in all the love that's going around.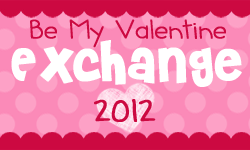 I have joined the Be My Valentine Exchange 2012 after missing out on the Christmas fun. So excited. Can't wait to get the info on my partner and start shopping and/or making! You can still join in the fun if you haven't already by going to
Ms. Preppy's blog
.
I've also joined up with
Mrs. Wills Kindergarten Love to Joplin linky party
. I'm sure you already have seen these everywhere, but if not click her link and check it out, then spread some of the love. I donated a gift card since I don't have a lot in my Teacher's Notebook store and wasn't sure if anyone would want anything from it.
Can you feel the love?